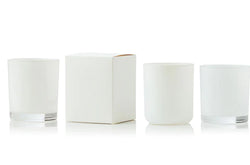 Our candles are hand poured. Yes, every single one of them!
Using specialty ingredients and technical processes, our team can create a white label range of candles perfectly suited for you to simply add your own labelling or packaging once received! 
We have selected from the most popular and readily available options for you to choose from to customise your creation, and as with all our products, we hand pour and ship our candles from our Melbourne headquarters. Simply make your selections and we can have your order added to our production schedule.
Because our manufacturing and development is in house, we have low minimum orders of 50 candles per fragrance. Please add 50 or more units to the cart once your options are selected. This service is best suited to smaller orders of 50-300 candles.
Minimum order turnaround time is approximately 30 days. For Urgent orders, please select the expedited order option to move forward in the queue. Note: Please allow min 2 weeks turnaround on this option. 
Some things to note.....
1. If you would like a pre-production sample prior to us fulfilling your order, please select this option. An sample product, created as per your requirements will be shipped to you for approval to proceed. 
2. Please enjoy the character of your candles. Some wax pull away from the glass is a normal occurrence in candle creation, rectified as soon as candle has had first burn. We recommend choosing a tinted glass vessel to prevent this happening.

3. All products supplied from Grace and James come with a generic base safety label. (Note: no Grace and James branding is included on the label)